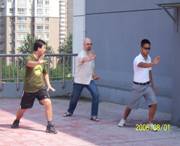 4. Tai chi chuan ( Chinese shadowboxing )
Chinese shadowboxing, also commonly known as Tai Chi, or Tai Chi, is both an internal Chinese martial art and a fitness routine. Tai Chi theory and practice was formulated in agreement with many of the principles of traditional Chinese medicine, philosophy, and aesthetics.
By learning and practicing Tai Chi, you will figure out more and more of its advantages, which will benefit you for your whole life.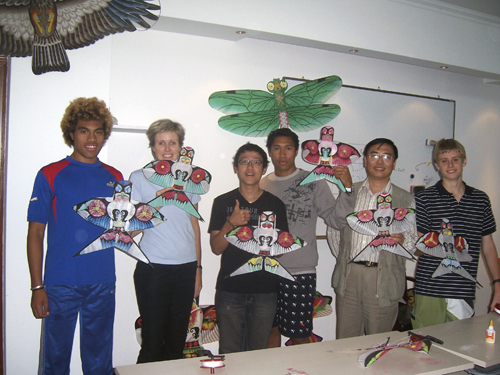 5. Making Kites
The kite, a Chinese invention with a long history, is mainly, but not only, a plaything. It has contributed to science and production. It has been praised as the forerunner of the modern aeroplane, and has been recorded in <SCIENCE AND CIVILIZATION IN CHINA> by English scientist Joseph Needham, together with the four great inventions.
The four steps in making a kite are themselves highly artistic: making the frame with bamboo strips; covering the frame using paper or silk; painting the kite with colors or a message; and finally, flying the kite. Flying a kite you have made yourself is definitely an enjoyable experience.

6. Chinese Knot
The Chinese Knot or Chinese traditional decorating knot is a kind of characteristic folk decoration or handicraft art. Appearing in ancient times, developed in the Tang and Song dynasties (960-1229A.D.) and popularized in the Ming and Qing dynasties (1368-1911A.D.), the Chinese Knot has now become a kind of elegant and colorful art and craft, but it was originally developed for practical use.

7.Chinese paper cutting
Papercutting is one of China's most popular folkarts, which can be found in most parts of China, with distinctive types and characteristics.
Papercuttings are used for both religious and decorative purposes, which not only reflect the Chinese people's aesthetic tastes , but also their hope and wishes for comfort, auspiciousness and happiness.
8. Chinese tea lore
Tea lore belongs to oriental culture. Tea was historically regarded by tea lovers as a precious and noble drink, and tea tasting was both an intellectual enjoyment and means of cultivating moral character and nature. In Chinese tea lore, by going through the tea tasting process, an individual's moral character is enlightened and enhanced, achieving harmony in the human mind.

9. Making jiaozi (Chinese Dumpling)
Jiaozi or Chinese dumplings are a traditional and popular food in China with a history of more than 1,000 years. Jiaozi is a traditional Spring Festival dish and adorns dinner tables across the country during this season. The typical Jiaozi has a meat and vegetable filling covered by a wheat-flour wrapper and can be boiled or steamed.
In China, Jiaozi have special cultural meanings, bearing both the Chinese people's warm memories from the bottom of their hearts, and also their wishes for a better future.